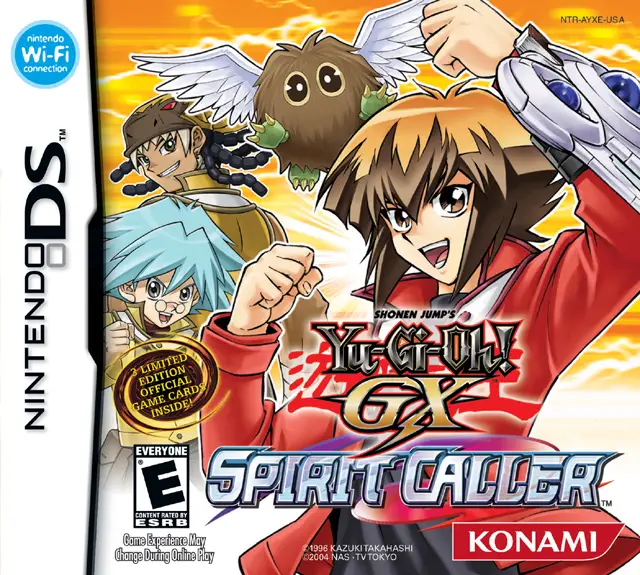 Key features:
Genre: Strategy
Origin: Japan
Number of Players: 1+
System Support: Nintendo Wi-Fi Connection
Manufacturer:
Konami
Release Date:
US: 09 January, 2007
UK: March 2007
Media: Nintendo DS Video Game
ESRB Rating: E
Yu-Gi-Oh! GX Spirit Caller
(also known as Yu-Gi-Oh! Duel Monsters GX Spirit Summoner)
Yu-Gi-Oh! GX: Spirit Caller brings together the collection-oriented card game with the potential of the digital realm and ends up with mostly disappointing results. Mixing a heavy Yu-Gi-Oh! influence and traditional video game mechanics, the end result yields a game that's ultimately playable, but only appeals to established Yu-Gi-Oh! followers.
Features:
Head to head worldwide dueling via the Nintendo Wi-Fi Connection
Based on the top-rated Yu-Gi-Oh! GX series from Cartoon Network
Includes over 1,400 cards
Create and edit the look of your character
Each game comes with three exclusive trading cards
Game Play:
At its core, Yu-Gi-Oh! requires a careful mix of skill, strategy and luck. Players begin each match with a hand full of random selections from their deck, with the ability to draw one additional card every turn. From there, opposing players face off, first deploying their cards and summoning any monsters, then pitting them against one another. Attack and defense numbers for each monster relate their ability to dole out and absorb assaults, with the larger numbers always coming out on top. Players without any monsters on the field leave themselves wide open to attack, but a variety of spells and traps can hold off an assault for a round or two. These spells and traps represent the deeper portion of Yu-Gi-Oh's strategy, which often allows for the removal of an opponent's monster or nullifying an attack and it's awfully handy when used properly. The first player to whittle down an opponent's overall health wins.
Dueling only showcases half of the experience, with card collection and deck customization also playing pivotal roles. In adding these aspects, Yu-Gi-Oh! GX: Spirit Caller uses a traditional role-playing set up — players earn money and experience points from battling the opponents they find while exploring the island. There is even a handy store supplying the latest expansion packs. Both touch screen and traditional controls permit players the freedom to tackle every aspect of the game using their preferred control method with neither offering a clear advantage over the other.
Reviews:
Yu-Gi-Oh! GX: Spirit Caller attempts to infuse the card-based gameplay of Yu-Gi-Oh! with the addictive properties of the role-playing genre, but falters in its execution. Well-intentioned gameplay devices, such as the non-linear map which gives players the illusion of freedom, end up frustrating because gamers have no clear direction on what to do next.
The core experience of collecting, customizing and battling with one's deck, combined with features like online play and a library of over 1400 cards, make this a great game for any fan of Yu-Gi-Oh!, yet numerous shortcomings, including the lack of an interactive tutorial, leave little redeeming value for those outside that fan base.
User Rating: 6 out of 10
Screenshots:
Go to:

« GX Duel Academy Information
|
Ultimate Masters: World Championship Tournament 2006 Information »